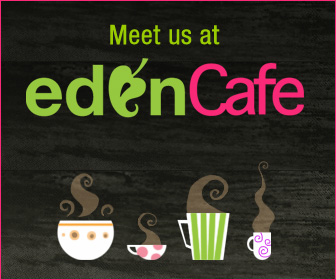 Hey gals! I'd like to take a second, if you would spare me, to share a wonderful opportunity. You know I'm all about the opportunities, particularly ones that could land us some amazing free products, from companies with just as much "Awwww-mazing" attached to them! You've seen me post Julep, you'll see me post more; But let me introduce you to the newest of my finds!
If you blog, like I do, you're probably aware of "Blog about us, get paid" scams. They suck, right? You get all hyped up to get cold-hard-cash as promised, and BAM. No. Instead, you get viruses and Trojans on your computer.
Not a pretty image evoked, I know; But tell me. What's another product you associate with the word "Trojan"? Condoms and "adult products", right? Right. Don't lie, I know you ladies have a hidden "secret" in one of those sock drawers. ;D
That's okay. But if you're proud of your "Kitty", or "Rabbit", or whatever you're apt to calling your tiniest best friend; Check out Eden Cafe for some great quality
sex toys.
They have awesome Blog-friendly opportunities, one of which I'm taking advantage of right now! All I have to do, and all YOU'D have to do, is talk about how awesome Eden Fantasys is; And since your return gift is a $25 gift certificate to their site, that's not exactly hard to accomplish! No pun intended of course. ;D
The best part of Eden Fantasys?
It's not JUST sex toys. There are lotions, and oils, and lingerie, and various other amazing lines that can be as PG or NSFW as you want!
Personally, I'm loving the
Beauty and Body
page! :3
Seriously though girls, we all know sometimes you just need to have a little "Me" time. Check out Eden Fantasys the next time you need to get away!